October 24, 2014
Lunch (Ready at 12pm Noon) Felafal w/ Salad ⓥ
Soup of the Day: Thai Curried Squash Soup ⓥ
Muffin of the Day: Banana Walnut ⓥ
Vegan: Veggie Lasagna, Basil Cabbage Roll Casserole, Sesame Adzuki Bean Noodle Salad (GF Ing), Sweet & Sour Sesame Tofu, Thai Black Rice Salad, "Bacon" Roasted Veggies, Orzo Pasta w/ Lemon & Herb Kale Pesto, Tofu Korma, Mexican Mac & Cheeze (GF Ing), Delightful Carrot Salad, it's Alive!, Kinetic Edamame, Mediterranean Kale Salad, Vegan Sweet & Sour "Chickin"
Vegetarian: Vegetarian Sweet & Sour Meatballs
Other: Spring Chicken Salad, Curried Chicken Salad, Spaghetti & Meat Sauce
Dessert: Chocolate & Peanut Butter Protein Bites ⓥ (GF Ing.), Mixed Berry Chocolate Oat Squares ⓥ, German Apple Cake
MONTHLY SPECIALS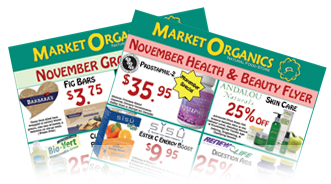 Signup for monthly specials and promos
FACEBOOK
LATEST RECIPES
Ginger Quinoa Peanut Salad
This recipe is a bit vague. Call the store at 613-241-6629 and ask to speak with Danielle in the kitchen if you need further direction.